Click below for more information about Covid-19 Booster Shots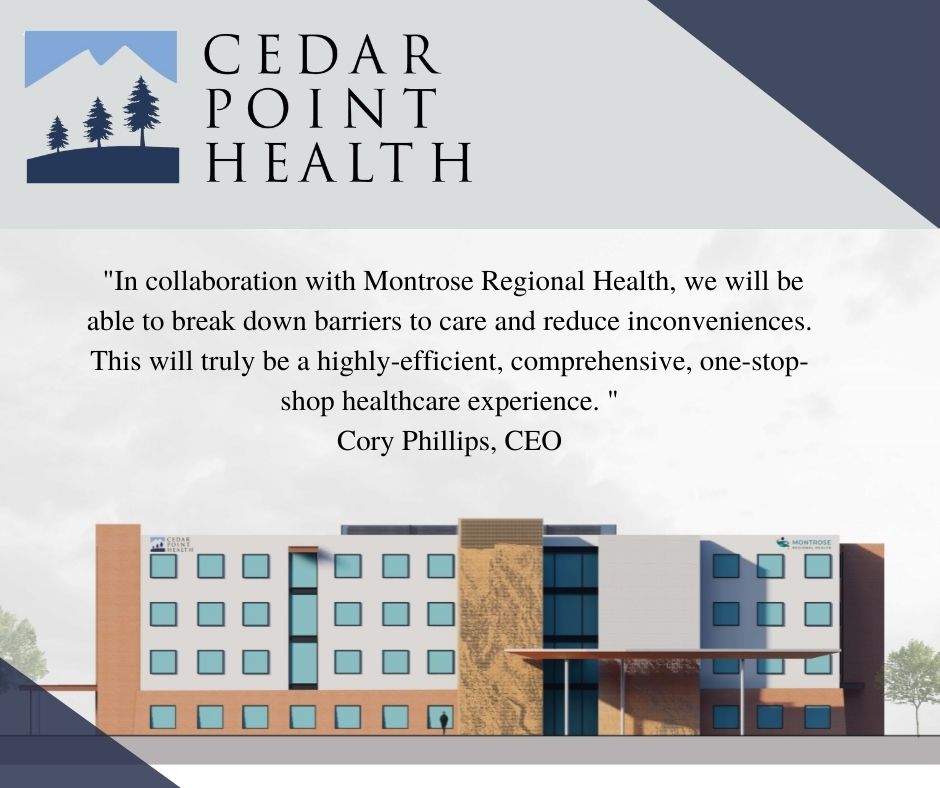 Announcement
Dear Community,
As we proceed with signing a letter of intent to join Montrose Regional Health in the development of an Ambulatory Care Center on the south end of Montrose (adjacent Hobby Lobby), we desire to share a couple of key reasons for doing so.
First and foremost, our goal is to improve the overall care experience of our patients. Cedar Point Health currently has three different primary care locations in Montrose. Maintaining three locations is challenging. We are less efficient and effective than we will be when we are under one roof. When in a building together, we will be able to maximize the experience for our patients by improving care coordination, standardizing our service offerings, and adding new services to evolve with ongoing healthcare reform. In collaboration with Montrose Regional Health, we will be able to break down barriers to care and reduce inconveniences. This will truly be a highly-efficient, comprehensive, one-stop-shop healthcare experience.  
Cedar Point Health is embracing a forward-thinking model that looks to improve the quality of care for our patients while minimizing costs. Services such as imaging and surgery offered in an outpatient setting are often 30-50% less expensive without sacrificing any quality.
We have begun to collaborate more extensively with our insurance partners to evaluate patient data. We learn how to better intervene and manage chronic diseases while maximizing preventive care intended to catch disease such as cancer early. Robust technology which helps extract meaningful information from large sets of patient data, will empower our teams to identify at-risk patients and intervene before the conditions worsen. As we do, we will be able to reduce morbidity, improve our patients' health, and reduce health care spending. Our health care teams made up of care providers, nurses, medical assistants, and patient services specialists, will be able to communicate, coordinate, and facilitate care more freely in a space designed specifically for this type of experience. We plan to make care more convenient and improve outcomes for our patients. Big data tools in an organized setting can support our providers to care for individuals; one-on-one, with compassion and empathy.
Second, we support our local community hospital. We evaluated the possibility of building our own facility and assessed the possibility of other partnerships, but we desire to ensure the long-term stability of Montrose Regional Health. The introduction of competitors will have consequences to our local community and health care system. To the degree that competitors can rally support behind their projects will determine the magnitude of impact. In other small towns, community hospitals have been forced to succumb to large health care systems which tend to take jobs, resources, and decision-making out of the local community. We strive to preserve the uniquely great system we have to the benefit of our friends, families and neighbors. We hope others follow our lead.
Living in a rural community has a tremendous number of benefits; especially when that rural community is nestled in a valley amidst beautiful mountain ranges and mesas. However, traditionally rural communities struggle to provide adequate, up-to-date health care services. But not Montrose. We are fortunate. We at Cedar Point Health will continue to provide compassionate quality care to each and every one of our patients. We are ecstatic to do that in collaboration with Montrose Regional Health in a beautiful new building, specifically constructed to maximize the patient care experience.
As we embark on this project, we solicit your support and welcome your feedback.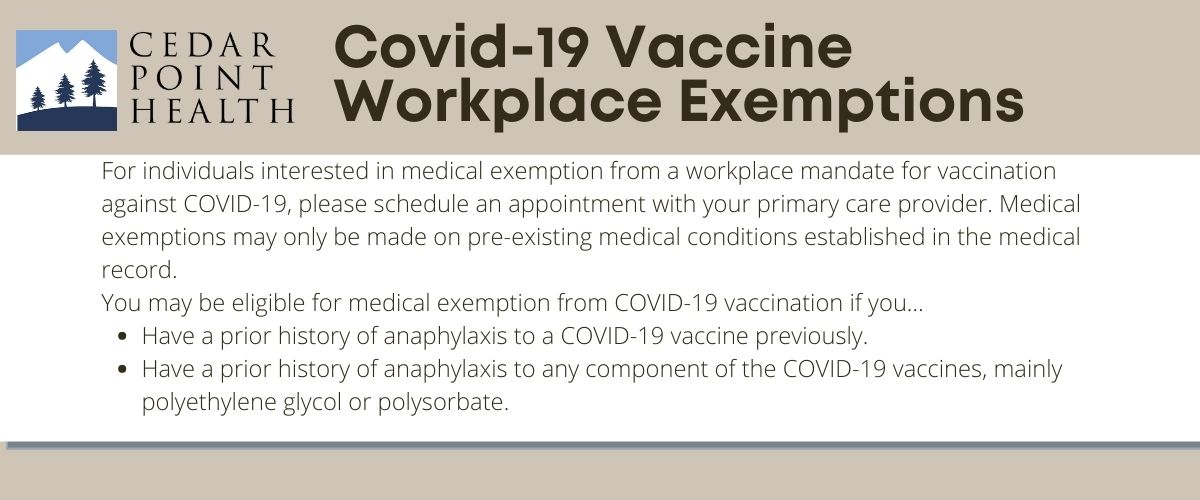 Myths and Facts about COVID-19 Vaccines
For a great review of common myths regarding COVID-19 Vaccines, please see Myths and Facts about COVDI-19 Vaccines from the CDC. CPH providers are prepared to discuss if the COVID-19 Vaccines are right for you. Please schedule an appiontment.
COVID-19 Boosters
For individuals who received either Pfizer-BioNTech or Moderna mRNA COVID-19 Vaccines, the FDA has authorized booster shots for all individuals 5 months or more after their initial series. Booster shots need not be the same brand as the initial series; patients are encouraged to receive whichever brand is available.
For those individuals who received Johnson & Johnson's Janssen (J&J/Janssen) COVID-19 Vaccine, boosters are recommended for all individuals 2 months after their initial vaccination. Booster shots need not be J&J but may also include Pfizer-BioNTech or Moderna mRNA COVID-19 Vaccines.
Forms
Looking for a primary care provider? We have a number of physicians, nurse practitioners, and physician assistants accepting new patients. Click here to download a packet.
Locations
We have Urgent Care locations in Montrose, Grand Junction, and Clifton, and Primary Care offices in Montrose and Cedaredge. Click here for addresses and phone numbers.

Services
Cedar Point Health offers a variety of services, including Primary Care, Urgent Care, Physical Therapy, OB Care, and Occupational Medicine.